We buy Surplus, Secondary, and Salvage Nationwide
Acclaim Metals started primarily buying excess and obsolete inventories. Although today we do much more than this, it is still a vital aspect of our business.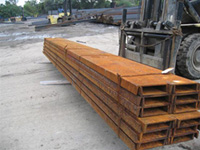 We buy all types of material, from excess prime to damaged salvage including items with rust, water damage, mill defects, shipping damage, or even used products. We buy coils (masters, slits or pups), sheets, plate, beams, angles, channel, tubing, pipe (metal or plastic), wire and wire rod, bars, and more. We purchase and distribute these goods nationwide using a network of public storage facilities or in some cases, shipping them directly to our customers.
We distribute these goods to users requiring lower costs materials for applications such as temporary structures, non-critical or hidden parts, or to service centers with customers that are not concerned about cosmetic appearances, and in some cases even overseas markets.
If you are a manufacturer or distributor that is interested in buying this type of material, please send us an email or give us a call, letting us know what your needs are. We can then contact you when we have items that meet your requirements. We never know what we will have, or when we will have it, so it works best if we know what you need so we can contact you when new opportunities arrive.