Our Services
Although we primarily are a wholesaler of our products, we do provide processing services for our customers using independent, outside processors. This gives us the flexibility to work with the processor best suited to meet our customer's needs, taking into consideration logistics as well as capabilities.
Some of the processing we have provided includes slitting, cut to length, just in time (JIT)/as needed deliveries, straighten and cut to length of rod and bar, re-squaring sheets and plates, and more.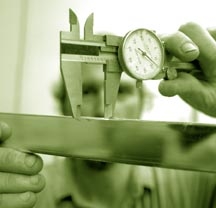 Meeting the Customers needs...
We try to work with our customers to find the best solutions. Sometimes that means we contract the processing work, other times we work with our customer to locate the best processor to perform the work and then deliver the goods to the processor for their account. In the later case we have found it can be to our customers benefit to control the processing themselves. This enables them to work directly with the processor to ensure the exact specifications are met and to set the delivery requirements they need.
Slitting

Cut to Length

JIT